WinTest-Analysis EC Testing Software

winTest Analysis universal testing software is a fully-integrated and fully-customisable package that supports all industry standards including ISO, ASTM and BS EN specifications.
Test types supported include tensile, compression, flexure, peel, tear, burst, adhesion, shear, spring, cyclic, friction and Brinell hardness. winTest Analysis is very flexible providing simple peak force testing or complex user-defined multistage step testing for specialised testing requirements.
The virtual control panel allows the operator full control of all tester functions and the ability to conduct simple tests manually. The control panel provides easy access to stored test methods, system configuration and diagnostics. The optional Panel PC also features touch screen technology to provide a very efficient and easy-to-use interface.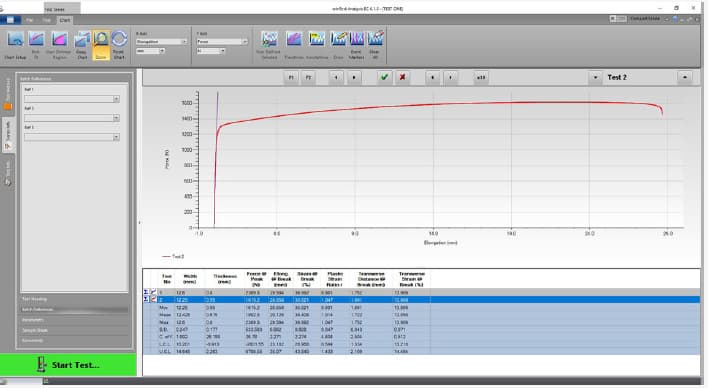 Best fit straight line in elastic region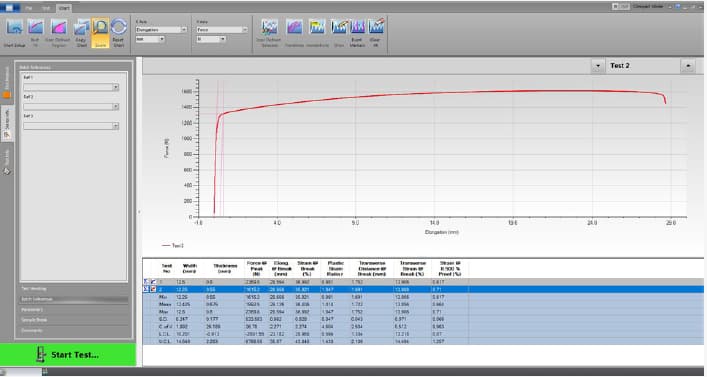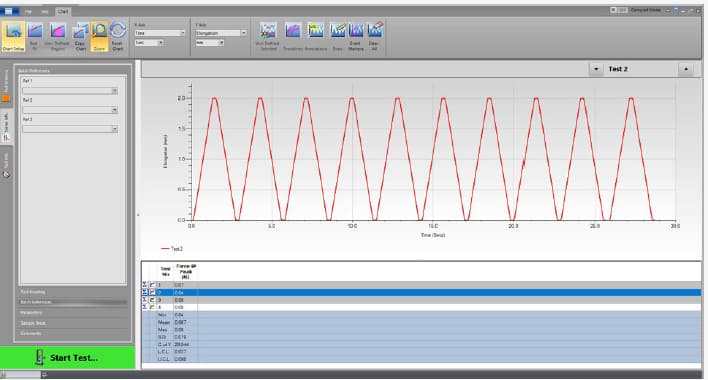 Intuitive and simple-to-use operation and set-up.
User-defined machine control routines.
Configurable trigger points for sample break detection, with multiple methods.
Configurable statistics summary for each test report.
Customisable test calculations.
Pass/Fail tolerance bands
Fully-configurable test reports.
Pre-defined industry standard test methods available.
Comprehensive library of industry standard calculations.
Display of best fit straight line in the elastic region, for calculation of E modulus, proof stress etc.
Transfer of test data to Excel, Word and Access
Import and export of test definitions in XML format.
Golden sample, a test curve can be selected as a reference and tolerance bands can be set to provide an
instant visual check that all subsequent tests are within tolerance.
Video extensometer image processing software, including transverse and multi point measurement.
Direct connection to customer network systems.
Crosshead speed control selectable in either linear, load, stress or strain rate.
Sequential calculations to take measurements at set intervals for long term tests etc.
Custom statistics can be generated for selected calculations.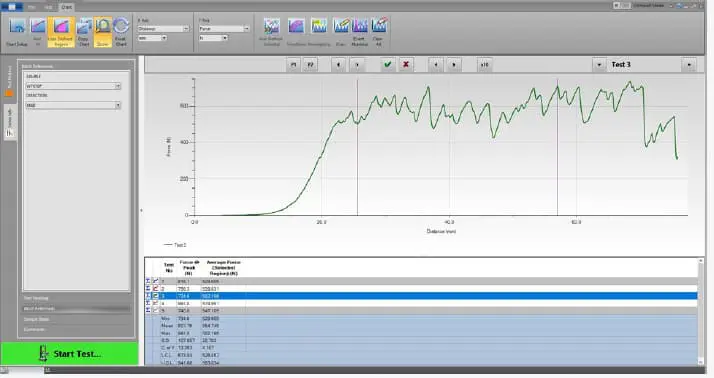 Selected calculation regions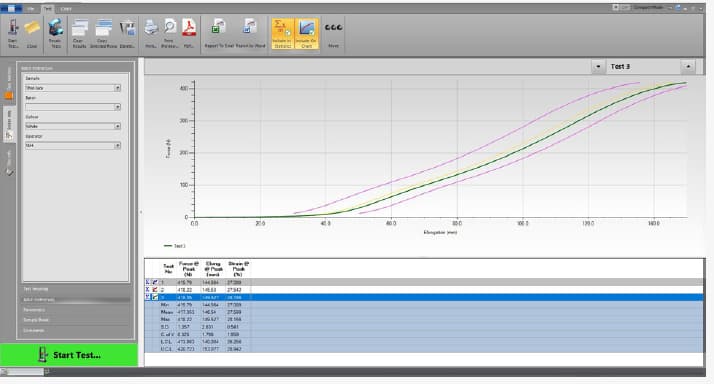 Multi level password security.
Audit trail to log activities performed during any use of the machine and software.
Direct connection to Testometric control centre for on line service, software upgrades, test method
download etc. (with RCE option)
Event marking during real time plotting of test curve.
Retrospective analysis of all test calculations.
User-defined header and footer on test reports.
Export test results and raw curve data in ASCII format.
Generate test reports in PDF format for email etc.
Calculate results on pre-defined test regions.
Multi-lingual support with one key press.
Support for an extensive range of peripherals including balances, extensometers, thickness gauges,
contractometers, environmental chambers etc.
Load cell calibration check log for reference and diagnostics.
Comments field and custom columns available for each test series and for individual tests.
Auto-print and preview option.
Tester system diagnostics integrated into software.
Intergrated Help file with graphical representations of stored calculations.
User-friendly test data backup can be configured for periodic reminders.
Industry specific or bespoke test standards installer available.

Include your own company logo and company details as Header and Footer on your test results to
produce professional looking test reports.
Test reports can also be exported* to Microsoft WordTM and/or ExcelTM to provide you with full editing features and copy and paste capability to produce presentation-quality test reports, charts or test data in spreadsheet format.

Convert your test report into an AdobeTM PDF file so you can simply email your test report as a PDF attachment. You can also email your test reports as a Microsoft WordTM document or an ExcelTM file.

Average Force
Average Force / Width
Bending Modulus
Crush Force (Edge)
Deflection @ 1st Collapse
Deflection @ Force (Stage)
Dynamic Co-eff of Friction
Elongation @ Break
Energy to Break
Energy to Yield
Initial Modulus
Force @ Peak
Force @ 1st Collapse
Force @ Elongation
Force @ Proof
Force after Stage
Lowest Force
Seam Opening Force
Seamed Strength
Static Co-eff of Friction
Strain @ Break
Strain @ Force (Load Cycle)
Strain @ Force (Return Cycle)
Strain @ Force (Stage)
Stress @ Peak
Stress @ Proof
Stress @ Strain
Stress @ Yield
T.E.A.
Tenacity
Transverse Rupture Strength
Unseamed Strength
Youngs Modulus
Chord Modulus
Tangential Modulus @ Strain
Tangential Modulus @ Stress
Secant Modulus @ Strain
Secant Modulus @ Stress
Strain @ Limit of Proportionality
Force @ Rupture
Strain @ Rupture
Average of 5 Highest Peaks
Bend. Strength @ Peak
Bursting Strength
Stress @ % Height
Force @ Time
Deflection @ Time
Secant Stiffness
Stress @ Relative Deformation
Time to Peak
Time to Failure
LOP
MOR
Strain to LOP
Strain to MOR
Ym
Average Peaks (Selected Region)
Percentage Reduction of Area
Spring Rate Between Forces
Spring Rate Between Deflections
Density
Chewiness
Fracturability
Hardness
Poisson's Ratio
Plastic Strain Ratio r

Aerospace
Automotive
Cable and Wire
Clothing
Adhesives
Food
Pipe
Adhesive tape
Containers
Credit Cards
Military
Constructions
Bedding
Cargo Restraints
Toys
Concrete
Fibre
Metals
Packaging
Cord and Rope
Elastic
Geotextiles
Medical
Rubber
GRC
Rope & Nets
Insulation
Furniture
Footwear
Springs
Timber
Foam
Wood based Panel
Plastic film and sheet
Corrugated board & Boxes
Yarn & Cord